At Larchmont Pediatrics, our team consists of Dr. Neville Anderson, Dr Lauren Estrada and our friendly staff who are dedicated to helping you and your child feel at home from the moment you walk through the door.
We consider it a great joy and responsibility to care for your children. We strive to treat each and every patient as we would want our own children to be treated. We look forward to working with you to provide the highest level of care for your child's health and well-being.
Dr. Neville Anderson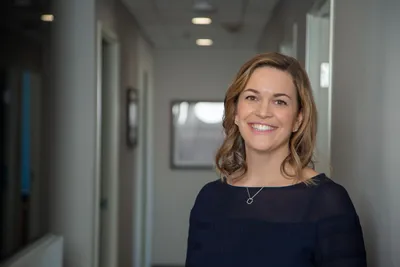 Dr. Neville Anderson grew up in the Windsor Square area. She attended St. James' Episcopal School (where in 5th grade she decided she wanted to be a pediatrician) and Marlborough School. While at Marlborough, she volunteered at Children's Hospital Los Angeles. After 10th grade, she left Marlborough to go to boarding school for 11th and 12th grade at Choate Rosemary Hall in Connecticut. She received a B.A. in Human Biology from Stanford University. After graduating from college, she was a teacher at Stanford's Bing Nursery School where she gained extensive experience in child development. She then left California to go to medical school at the University of Rochester in upstate New York. She quickly returned to sunny Southern California to do her internship and residency at Children's Hospital Los Angeles. There she won the Victor E. Stork Award for Continued Excellence and Future Promise in the Care of Children. After finishing her residency, she was a beloved pediatrician at Descanso Pediatrics in La Canada-Flintridge. She was named a Top Doctor in Pasadena magazine in 2008, 2010-2012 and 2013. In Los Angeles magazine, she was named a Top Rising Super Doctor in 2013-2015, and a Super Doctor in 2017-2020. After 7 years practicing in La Canada, she decided in 2014 to open her own practice on Larchmont Blvd in her "hometown" in the middle of Los Angeles. Dr. Anderson is a member of the American Academy of Pediatrics and has been a board member of the Los Angeles Pediatric Society since 2016 and is a past president. In addition, she sits on the Board of Managers of the Children's Hospital Los Angeles Health Network and serves as Chair of the Finance Committee of the Children's Hospital Los Angeles Health Network. In her free time, she enjoys cooking, hiking, going to the beach, reading, playing tennis and "taking advantage of all the cultural activities in Los Angeles." The Hollywood Bowl and the beach are her 2 favorite places in Los Angeles. Each December, she co-chairs her church's Project Angel Tree program which purchases Christmas gifts for children who have a parent in prison. Dr. Anderson is excited to be your child's pediatrician!
Dr. Anderson is featured in the Larchmont Chronicle in their March 2014 issue and in the Larchmont Buzz .
Dr. Lauren Estrada
Dr. Lauren Estrada grew up in San Marino, California, and attended Westridge School in Pasadena. She then moved to the Bay Area to attend Stanford University, from which she graduated with a B.A. in Human Biology with a concentration in Child and Adolescent Development. She received her medical degree from the University of Arizona College of Medicine and graduated with Distinction in Community Service. She was thrilled to return to Southern California to complete her pediatric residency at Children's Hospital Los Angeles, where she cared for children with a wide range of medical conditions. Since the completion of her training, she has been practicing private general pediatrics in the Los Angeles area.
Dr. Estrada finds joy in working with children and is constantly inspired by their strength and
resilience. She is committed to her patients and is passionate about the role that she plays in their lives. In her spare time, she enjoys exercising, traveling, going to the beach, trying new restaurants, and spending time with her family and friends. Dr. Estrada is excited to be a part of the Larchmont Pediatrics team and looks forward to creating meaningful, long-lasting relationships with her patients and their families.